Help raise awareness about Suspended Coffee in your community.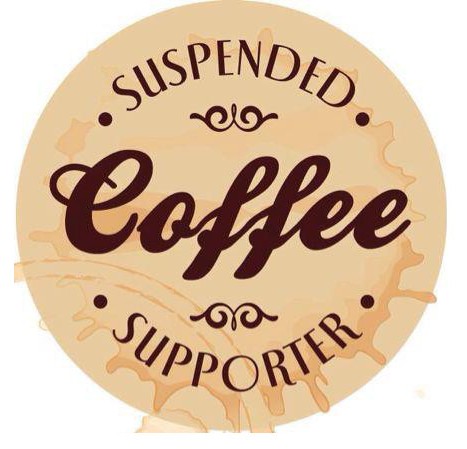 You (yes you!) can help make a difference in your community simply by proposing this idea to local cafe's, coffee shops, and restaurants. Thousands of shops across the globe are now offering Suspended Coffee due to the efforts of ordinary people (like you!), who saw the potential of this idea. That said, there is no right or wrong way to introduce a business to Suspended Coffee. Please, feel free to experiment with strategies and post your successes in the comments below.
How to Introduce Suspended Coffee to Local Business
The simplest way to introduce a business to Suspended Coffee is just to go inside and ask if you can buy one. Then, you can explain to the waitress or manager what it is and how they can offer it to their customers. This strategy helps to demonstrate that there is a demand for Suspended Coffees and that the store may benefit from offering them.
Make it easier for businesses to offer Suspended Coffee
Business owners are often very busy tending to the needs of their store, employees, and customers. The easier you make it for them, the more likely they will be to jump on board. Print out a copy of the business flyer and certificates so their business could hit the ground running.
The owners may be too busy to even talk to you. In this case you may want to have a letter handy that explains the idea and potential benefits. You can either write one yourself or use the Suspended Coffee Handout created by Malcolm Grant or this sample Letter to Business Owners. Leave the handout and letter with the owner, along with a copy of the flyer and several copies of the certificates.
Make it clear that business owners can customize the idea to their own needs
Cafe's and restaurants are absolutely under no obligation to use the flyers and documents on this site. Owners are also more than welcome to customize the flyers and certificates to suit their needs, adding their own business logos, for example. Most businesses are developing their own strategies.
Some businesses are using tokens, sticky notes, or even colored marbles to keep track of the Suspended Coffee's that have been purchased. Others have designed their own vouchers that customers can purchase and hand out directly. Starbucks UK has designed a plan where they bring the coffees to shelters directly.
Focus on the potential benefits to the Business
While many business owners will see the benefits immediately and will jump at the chance to offer Suspended Coffee, others will take some convincing. I've considered some objections at 8 Criticisms of Suspended Coffee to help give you an edge in responding to concerns.
Even though this is a relatively new idea (except in Italy), there are virtually no costs to starting it up and only a few minor risks. If for some unforeseen reason Suspended Coffee does not work, the owner can simply discontinue it.
The goal of businesses is to make money. This is not a bad thing. It provides local jobs and helps the local economy. Remind the business that there is a potential for increased sales, media attention, and improved customer loyalty. You can't make any promises, but Suspended Coffee is a low risk/high opportunity adventure that benefits the community, the businesses and the local economy.
Follow through
After your initial contact, contact the business owner back in the next couple days to see if they have questions or there is anything you can do to help them get started. You could offer to help the business contact local media or even contact local charities to spread the word about the business' participation in Suspended Coffee.